Investing Places with Meaning
Visual representations of history generate interest and strengthen a sense of place and community. From temporary museum exhibits to permanent indoor and outdoor displays, Stories in Place can provide historical and visual content or coordinate your entire project from initial concept through design, fabrication, and installation, according to your needs. Whether large or small, indoor or outdoor, temporary or permanent, we have the expertise to complete the following steps to ensure that your display is a success:
determination of overall scope, message, and audience
selection and direction of graphic designer
research and development of text and imagery
securing usage permission for any proprietary imagery
determination of appropriate form and materials
selection of fabricator/installer
supervision of fabrication and installation
Sample Projects
History Hall, The Basement, Reno (2016)

We were approached by lead designer Brianna Bullentini to assist in the creation of a permanent history installation for The Basement, a marketplace and food destination located in the basement of the historic 1934 downtown Reno post office, which was designed by prominent Nevada architect Frederic DeLongchamps. The building was sold by the U.S. Post Office and has been re-purposed as commercial and office space under the name 50 South Virginia.
Working collaboratively with an existing design team, we helped to determine the scope of the display, researching and developing content about the history of the building, Reno in the thirties, the role of the post office in the city's gamblign and divorce industries, and Frederic DeLongchamps. Bullentini conceived of a plan to mount the photographs, postcards, and architectural plans on reclaimed pipes to complement the industrial feel of The Basement's overall design.
Our role: Research and writing of display text, locating and securing high-resolution images, and usage permissions.
4th Street-Prater Way Historical Installations (2015)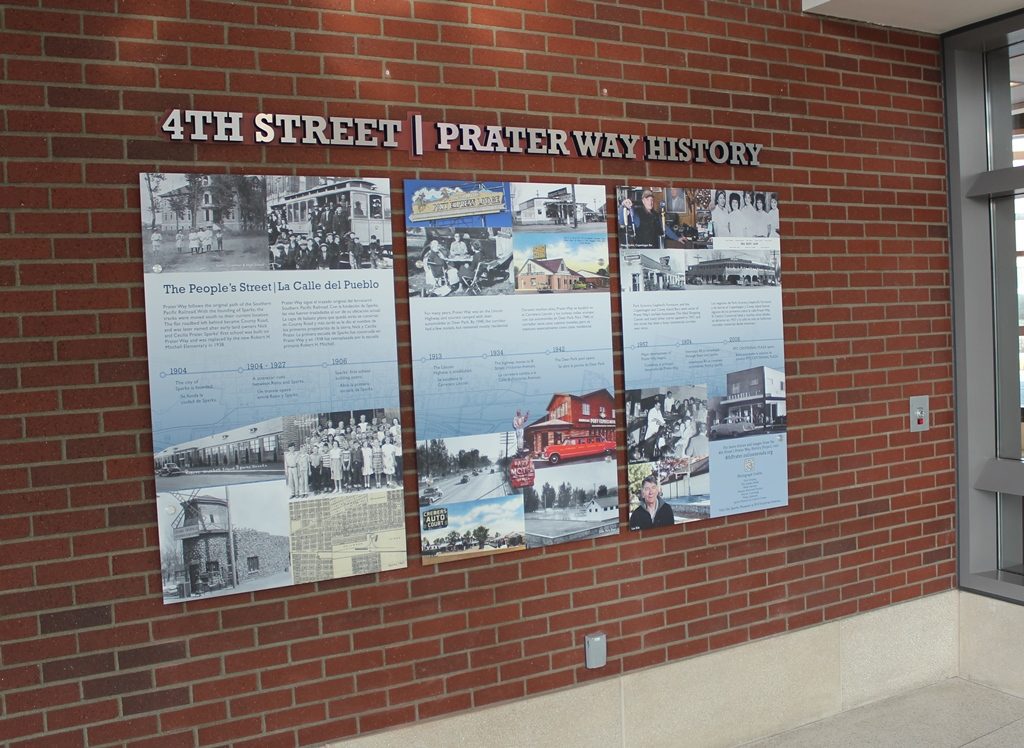 The RTC 4th-Street Prater Way History Project is an innovative community partnership initiated by the Regional Transportation Commission of Washoe County (RTC) and culminating in a number of related public history projects intended to integrate the community's history into future plans for the corridor and strengthen a sense of place.
We conceived, researched, and designed two permanent historical displays for the interior of RTC 4TH STREET STATION in downtown Reno (East 4th and Lake Streets) and RTC CENTENNIAL PLAZA in Sparks (Victorian Avenue at 15th Street). Each display is distinct, and features historical photographs, maps, and postcards; a historical timeline; and selected portraits of participants in the 4th Street-Prater Way Oral History Project. The displays' design is intended to complement the clean modern architecture of the two transit stations.
Our role: Concept through installation: hiring & directing graphic designer; researching and writing content; securing images; coordination of fabrication and installation.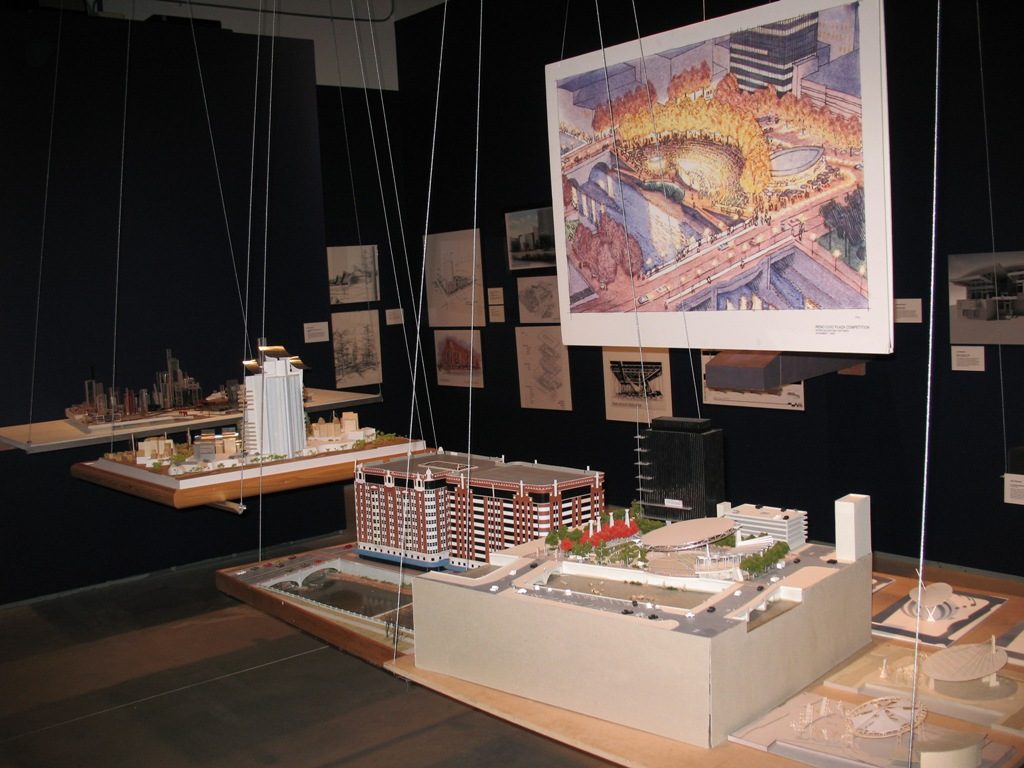 UnBuilt Reno: Alternative Architectural Landscapes (2008)

Titled UnBuilt Reno: Alternative Architectural Landscapes, this exhibition included architectural drawings, sketches, digital renderings, and scaled models of residential, commercial, and public projects from 1926 to 2008, including previous proposals for various riverfront development projects and innovative designs for area residences. UnBuilt Reno was exhibited in the Media Gallery of the Nevada Museum of Art from March 29 through July 6, 2008.
The exhibit was presented in collaboration with the Black Rock Design Institute (BRDI), a local non-profit organization founded to inspire an open and creative dialogue about the important design issues of our time, and to heighten awareness of design in the Reno community. Partial funding was provided by a grant from the Nevada Arts Council, a division of the Department of Cultural Affairs, and the National Endowment for the Arts, a federal agency. Additional support was provided by the American Institute of Architects (AIA) Northern Nevada chapter and the Regional Technical Institute.
Our role: Overall curation and coordination, development of all display text.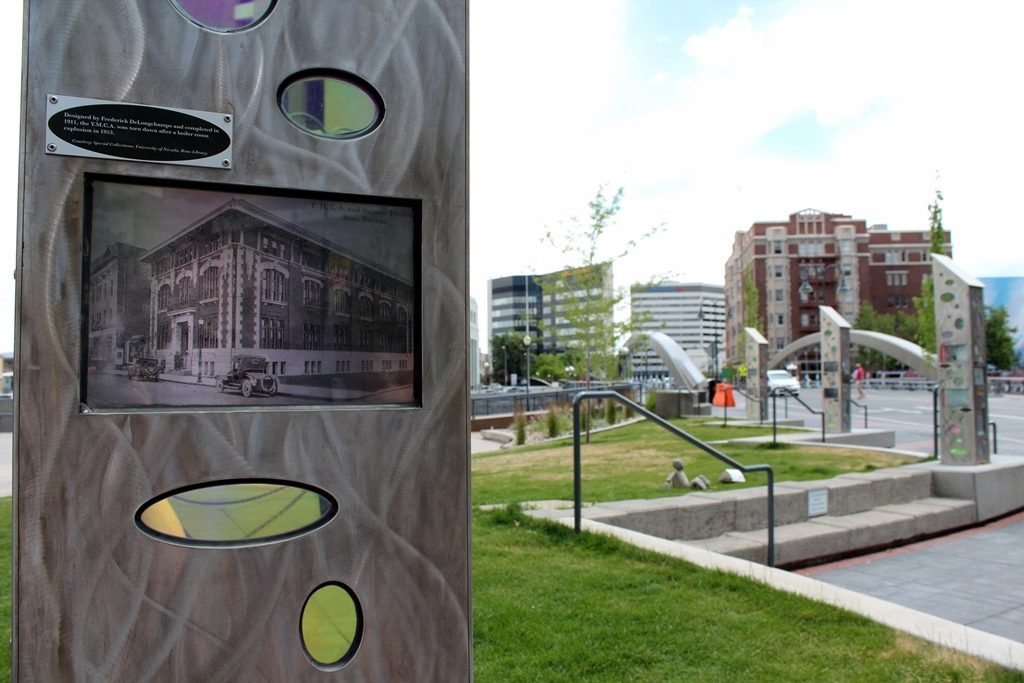 "You Should Have Been Here," 10 N. Virginia Street (2006)

This permanent installation at 10 N. Virginia Street in Reno was a collaboration with San Francisco artist Cork Marcheschi. The series of six columnar sculptures, designed by Marcheschi, each features a geographical location or theme relating to Reno's past. Standing on the former site of Reno's venerable Mapes Hotel and Casino, which was imploded amid much controversy in 2000, the piece is intended to serve as a place of healing and historical memory for residents and visitors alike. It was dedicated in 2006.
Looking southwest across the installation site, the historic Riverside Hotel can be seen on the opposite bank of the Truckee River, just past the new Virginia Street Bridge that was dedicated in 2016.
Our role: Research of historical material, development of all text, securing high resolution images and usage permissions.